5 Tips to Ensure Your Motocross Bike is Race Ready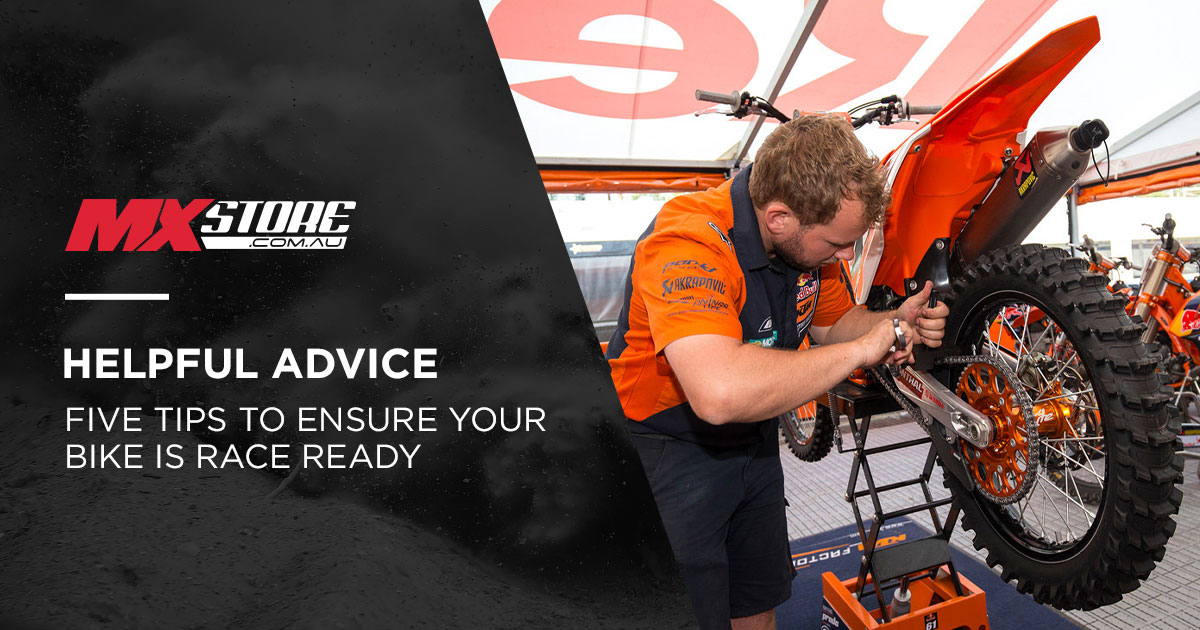 When it comes to getting ready for race day, there's a lot going through your mind, but one important step that can't be overlooked is ensuring your motocross bike is race-ready. We've come up with a selection of five bike maintenance tips that have helped us in ensuring everything goes to plan with our dirt bike when we line-up behind the gates.
Start clean: Our first tip in getting your motocross bike race-ready is making sure you start with a clean bike and workspace. Your bike should already be clean after your last ride, but also ensure things like your air filters are clean and dry, plus the space you're working in is tidy enough to get the job done. By having a clean bike and workspace, it will mean no dirt can make it anywhere it shouldn't while preparing your dirt bike, further preventing a possible mechanical failure on race day.
Complete the regulars: This is an obvious one, but don't skip over the regular bits of routine maintenance ahead of race weekend - if anything, you should be going above and beyond! Complete any engine oil changes, part replacements like sprockets and chains, as well as 'once overs' such as a freshly oiled air filter, checking tyre pressures and brake pads, tightening bolts, tensioning the chain, topping up coolant, etc. It's also important that any major servicing, such as engine rebuilds and greasing bearings, is also up to date before race day.
Meet regulations: There's nothing worse than rolling up on race day and going through scrutineering, only to be told your bike can't be cleared because it doesn't meet regulations. Now it needs to pass the regulations, such as plugging your bar ends, but it also needs to meet the standards for racing, which ultimately determined by the scrutineer. Things like this can be loose wheel bearings, foot pegs that don't return, and even a sticky throttle - so make sure you're on top of this before the weekend. Regulations can also extend to noise testing, which can happen randomly at any state event. So, if your bike sounds a bit loud, the muffler might need repacking.
Get a head start: A really important tip in getting your motocross bike race-ready is starting preparations well ahead of race day. Why? Well, if you discover you need to replace any parts, it gives you adequate time to order and install them. Leaving bike prep to the last minute could prove a costly exercise, especially if it comes down to a part that will prevent you from even going racing. There's also the fact that if any major works need to be undertaken, you'll have enough time to get it done before the gates drop.
Create a checklist: One of the most important things you can do when preparing your dirt bike for race day is to create a checklist. It's a simple thing that will ensure you don't forget any tasks ahead of the event, reducing the chance of things going wrong and potentially ruining your weekend. We recommend creating a list has all of the generic tasks, as well as any additional bits of work that need to be completed. A whiteboard on the wall in your garage works a treat for this!
Leave a comment
Can't find what you're looking for?
Let us find it for you…
Find it for me!