100k Instagram TT-R110 Giveaway
To celebrate a huge milestone for MXstore, we wanted to do something pretty cool. We are hugely appreciative of all of our customers and supporters here at MXstore, and for us to hit the 100,000 followers mark on Instagram means a lot to our company. As a way of saying thank you to all of those who support us, we decided to run this competition to give all of our loyal followers a chance to win our new 2020 Yamaha TT-R110!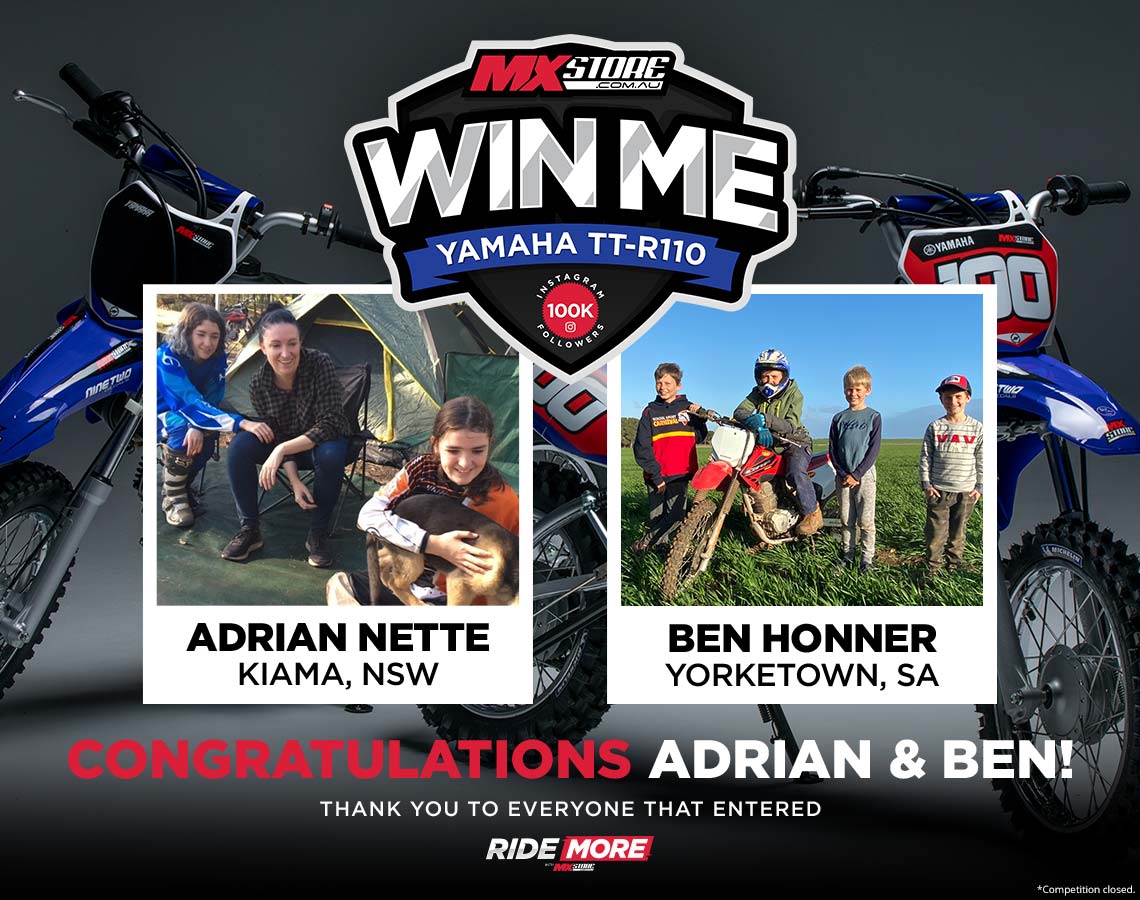 A huge congratulations to our two major winners, Adrian Nette in NSW and Ben Honner in SA. Adrian's passion for riding stems from building confidence in his young girls and developing their family bonds in the shared experiences of riding together, and he was over the moon to find out they had won a brand new bike! Ben simply loves riding and it is his favourite thing to do, and he was so excited to learn that he and his younger brother have won a new bike for them to share!
We were completely overwhelmed by the amount of amazing entries we had in this competition, and although we can only choose two winners, we'll definitely be doing more of these kind of giveaways in the future, so stay tuned! Thank you to everyone for your continued support, and congratulations again to Adrian and Ben.
We saved our best upgrade for last, and trust us, this one was not planned! Given the incredible response to the 110 giveaway, we decided to go buy another 110 for you guys, so now we have two major prize winners. It's been amazing to see how many entries have come in, and we couldn't be more stoked to have a second 110 up for grabs for you legends! If you've already entered, you're now in the running for both bikes, and if you haven't got your entry in, there's still time!!
This was the one we've been looking forward to the most... a fresh custom NineTwo Decals Graphics Kit! The red plates with the #100 was an absolute must, and of course, sharing the love with our brand partners on the 110 project. We've just launched a new line of standardised MXstore Graphics Kits from the guys at NineTwo, so make sure you check them out if you like the look!
We wanted to start our 110 upgrades with a bang, so naturally, the exhaust was the best place to start. We decided to go with a Pro Circuit T-6 Exhaust System, complete with carbon fibre end cap to really look the part on our TT-R! If this thing was cool to start with, it's on a whole new level now. And wait till you hear how good it sounds! Many thanks to the legends at Pro Circuit for helping with this one.
Fresh rubber is hard to go past when it comes to upgrading your machine, and our 110 was no different. Our friends at Michelin definitely agree and were stoked to help out with a set of Michelin Tyres for this little beauty. Power to the ground is essential, especially when it comes to playtime on a 110, and Michelin is definitely one of the leaders when it comes to high performance dirt bike tyres.
A fresh seat cover is a necessity to any bike makeover, and our friends at Strike Seats were more than happy to help out with this little upgrade! Keeping the theme consistent with the rest of our TT-R110 one, we went with a gripper ribbed option in full black with blue ribs. Adding some extra traction to your seat so you're not sliding around is always a great option, so if you're looking to keep your bum a bit more secure on your seat, check out our Strike Seat Covers today.
Funnelweb Filters are without a doubt one of the leading brands when it comes to aftermarket Dirt Bike Air Filters, so we're stoked to not only chuck a ride ready filter in our TT-R110 for our winner, but they'll also score themselves a couple of extra Funnelweb Filters for future use! Taking care of your machine is a necessity no matter what age you are, so we wanted to make sure our winner has a solid supply of Funnelweb Air Filters to keep their new 110 running in tip top condition!
Now, this one is going to be super simple. All you need to do for your chance to win is hit the Enter Now button either below or at the top of the page, where you'll need to submit a photo that "Best describes your passion for dirt bikes" along with an accompanying caption. We want to make sure our winner is someone who truly loves our sport, so choose carefully when submitting your photo. And the best thing about a 110 - they're suitable for both adults and kids to have fun on, so anyone can win!
Be sure to follow along on our MXstore Socials or check back in on this page throughout the competition, as we might be adding some trick parts to our 110 along the way. And it's not just our the 110 that's up for grabs, we've also got some cool prizes to win along the way, just by entering! We've got a bunch of MXstore merchandise packs, Pro Circuit Exhaust Plugs, two Strike Seat Covers, and even a complete MXstore Graphics kit to be won from NineTwo Decals.
Terms & Conditions
Competition is for Australian Residents Only
Winners announced Sunday July 19th
Competition runs from 14/06/2020 until @mxstore Instagram hits 100k followers
Winner announced 7 days after the competition closes
Must be following @mxstore on Instagram to be eligible
Submit your photo that "Best describes your passion for dirt bikes" with an accompanying caption
This is a test of skill - the winner will be decided based upon their photo entry
Photos are encouraged to be the users own, either of themselves or one they have taken
By submitting your photo, you are giving permission to MXstore to share it on their @mxstore social accounts
Limit 1 entry per user
MXstore employees and their immediate family are not permitted to enter
MXstore will cover transport costs of shipping to bike to the winner if necessary
Dirt bike riding can be dangerous, competition winner does so at their own risk
Leave a comment
Can't find what you're looking for?
Let us find it for you…
Find it for me!