How To Order A Dirt Bike Wheel Set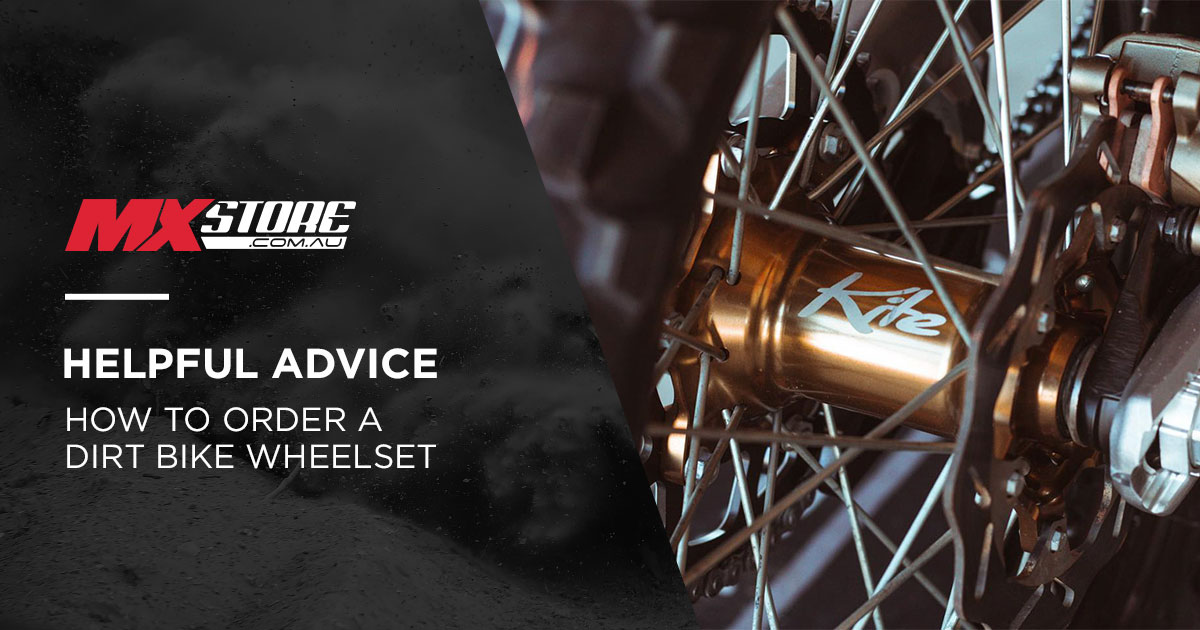 Pre-built wheel sets are the most affordable and easiest way to equip your dirt bike with a fresh set of wheels, providing weight and strength advantages while also adding to that factory look.
There are a number of colour variations available that are bound to suit your taste, while depending on the brand, they're generally built to order before being shipped out and will arrive at your doorstep assembled.
A wheel set includes the front rim, rear rim, hubs, spokes, and nipples, however you'll need to buy a number of additional items to make it a complete wheel that's ready to rip some motos!
What you'll need:
Brake discs: One of the first things you'll need to complete your wheel set are brake discs for both the front and rear wheels. Brake discs come in a number of different options, from solid, through to standard and waved discs. It ultimately comes down to your preference, although waved discs are the most popular option and are usually found as standard on your OEM motocross wheel.
Rim lock: A rim lock is an essential part of completing your wheel set, and it's one of the more affordable parts. We'd recommend picking up two and putting a spare in your race day toolbox.
Rear sprocket: Pre-built wheel sets don't come with a rear sprocket, so you'll need to add one to your cart. Here, you can add to the customisation of your wheelset as sprockets come in many different colours. We recommended sticking with the gearing you already have on your bike, unless you're specifically chasing a desired result from going up or down in teeth - you can learn more about gearing here: The Ultimate Guide to Dirt Bike Sprockets
Tyres & tubes: If you're investing in a brand-new wheel set, then it's worth getting fresh tyres and tubes. This way you can use your standard or old wheel set as a ready to go spare, plus, you won't be fitting old gear you fresh new wheels. You'll also need rim tape for both the rear and front wheel. For choosing the right tyre, you can read our complete guide here: The Ultimate Guide to Tyres & Tubes
Disc & sprocket bolts: It's always recommended to fit your brake discs and sprocket with the new bolts, and some hubs on pre-built dirt bike wheel set actually require specific bolts that are sold separately. If this is the case, it will be stated in the description of the product.
Watch for: Depending on the brand of MX wheels will depend if the set comes with wheel spaces and wheel bearings. Again, it will be stated in the product description, so ensure you double-check if you'll need these items.
Leave a comment
Can't find what you're looking for?
Let us find it for you…
Find it for me!