Alpinestars 2018 LE Racer Aviator Black/Navy/Gold Gear Combo
SKU: AS37617187159-BYB

San Diego, California USA – The AMA Supercross is mobilizing to San Diego this weekend for the sixth instalment as riders prepare to engage in another combative round of attack on the racetrack.
In honour of US Military armed forces, Alpinestars releases the Limited Edition 'Aviator' collection, which includes the Racer Jersey, Pant and Glove gear set featuring a distinctive black and navy blue combat ready design colourway. To complete the gear set, the gold 'Aviator' Tech 10 boot leaves no doubt that this rider is in control and ready to take flight. The Limited Edition Racer kits hosts all of the same technical features as the standard Racer gear but is offered in this navy, black, gold colourway that features a camo pattern in the pant. This kit is available only while stocks last, so get your hands on yours now before they're all gone!
ALPINESTARS MX18 RACER JERSEY
With its pre-curved sleeves, moisture-wicking and extremely lightweight and durable main chassis, the Racer Aviator Jersey will not let you down when the track or trails get tough. The LE Racer Aviator Jersey comes in a distinctive and aggressive colour combination and is designed to match the LE Racer Aviator pant and LE Racefend glove for a total performance look and feel.
FEATURES
Poly-fabric construction is lightweight, moisture-wicking and durable.
Cut longer in the rear area for compatibility with Alpinestars' MX pants.
Stretch collar neck construction for fit and comfort.
Fade resistant sublimated graphics.
Fitted wrist cuffs for optimized fit.
ALPINESTARS MX18 RACER PANTS
With an innovative, ergonomic design and distinctive graphic pattern, Alpinestars' Racer Aviator Pants are at the forefront of off-road racing apparel. With stretch panels and a 3D knee construction for freedom of movement and extensive, lightweight mesh this pant also incorporates a pre-shaped leg construction and reinforced padding to offer excellent levels of comfort and performance.
FEATURES
Durable poly-fabric/nylon construction that is PU coated for additional strength and durability.
Large rear stretch panel insert provides increased comfort and flexibility to the waist and lower back.
Extensive lightweight and ventilated mesh with stretch panel inserts for improved fit.
Pre-curved, ergonomic leg construction for improved performance in the riding position.
Heavy poly-fabric reinforcement on the seat area and inner leg panels provides superior abrasion resistance.
Includes perforated foam hip pads for fit, comfort and breathability.
Leather reinforced inner-leg panels for heat resistance, grip and comfort.
Innovative 3D knee construction and hidden expansion panel designed to accommodate knee protectors.
3D injection molded rubber logos for durability.
Ratchet closure with dual waist adjustment pull-tabs for safe, personalized fit.
Convenient interior hip pocket for key/coin storage.
ALPINESTARS MX18 RACEFEND GLOVES
Multi-material, durable glove optimized for tough Enduro terrain, the Racefend incorporates TPR knuckle and finger inserts for abrasion resistance. With Neoprene reinforcement and a stretch poly-fabric upper with Clarino palm, the Racefend provides excellent levels of comfort, durability, and performance.
Features:
Stretch top hand with strategically positioned Neoprene for comfort and fit.
Single-piece Clarino palm offers excellent grip and sensitivity on the bike's controls.
Clarino reinforcements on thumb and landing zone for durability and comfort.
TPR inserts on knuckles and fingers for additional abrasion resistance.
Velcro and TPR wrist adjustment for secure, customized fit.
Silicone grip patterning on fingers for improved riding control.
Innovative stretch insert in adductor (palm and thumb) for improved hand movement and lever control.
Pre-curved finger construction reduces fatigue and improves comfort.
ALPINESTARS MX18 TECH 10 BOOTS
Unsurpassed in protection and performance, the Tech 10 is the apex motocross boot, further advancing the innovations that make it the most technical motocross boot ever conceived. From the anatomical shape, with front and rear sliding blades, to the all-new closure system featuring a light and durable buckle closure system, every component of the new Tech 10 boot has been continuously developed and tested in racing for uncompromised performance and durability.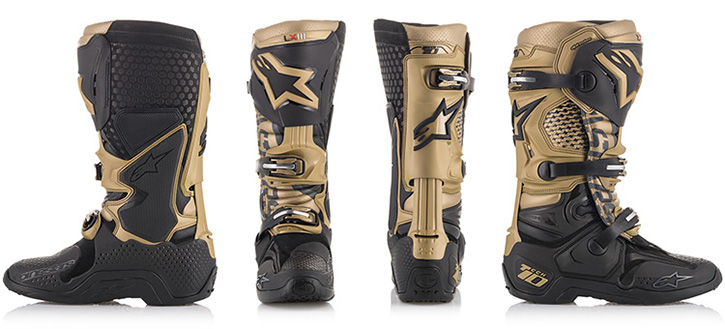 CONSTRUCTION
The one-piece co-injected foot chassis incorporates five different advanced polymer compounds in a single streamlined and lightweight piece to offer strength and flexibility throughout the structure, while maintaining its robust structural integrity with no joints or weak points.
Innovative, lightweight upper combines full-grain leather with advanced lightweight microfiber and an impact and abrasion resistant TPU shell.
Medial-facing panel is constructed from a one-piece, specifically formulated polymer for improved structural stability and integrity, and incorporates a rubber insert panel for maximum grip contact with bike and improved abrasion resistance.

PROTECTION
The Tech 10 boot is CE certified.
Frontal protection features a dual closure system with an internal microfiber flap, plus Velcro® for a precise fit closure attached securely with a micro-adjustable, easy to operate, lightweight buckle. Shin incorporates a unique TPU blade system engineered to prevent frontal hyperextension and offer greater flex control.
Contoured TPU calf protector plate offers impact resistance and incorporates Alpinestars innovative rear blade system, formed with hard shock resistant polymer to protect the heel and features a rear hyperextension guard.
Innovative, ergonomic design for lateral and medial flex zones to provide superb front and rear flexion support which helps prevent damaging torsional forces around the ankle area.
Multi-density foot shell incorporating heel and toe protection is highly resistant to abrasion and impact, and adds to the boot's overall durability.

KEY FEATURES
Exclusive dual compound sole is seamlessly integrated to the multi-density foot base structure with built-in support. The sole offers superior durability, grip and feel while riding.
The central sole insert is easily replaceable and Alpinestars offers a full sole replacement and boot repair service.
New buckle closure system includes high-impact aluminium bridge closures, with memory and a quick release/locking system with self-aligning design for easy, precise closure and improved riding performance and security. All buckles are easily replaceable.
Soft microfiber gaiter helps seal out excessive water and dirt entry.
Poly-fabric lining with 3D open cell foam incorporates anti-slip suede on heel area to keep foot located inside the boot.

INNER ANKLE BRACE SYSTEM
Innovative biomechanical inner ankle brace features medial and lateral "C" torsion bars to control ankle and leg rotation, while allowing freedom of movement. Wide fit torsion bar replacements are included. These dual connection torsion bars offer the rider natural ankle movement with progressive damping of torsional forces during an accident.
TPU protection and shock absorbing padding on the heel and ankles and an ultra thin and flexible forefoot area for increased sensitivity and control.
New, dual compound, removable anatomic footbed includes EVA for comfort and support and aids even weight distribution.
Browse More
Be the first to review this product!
Help other MXstore users shop smarter by writing reviews for products you have purchased.
---
Buy now, Pay later
Four payments of order total
---
SELECT SIZES
Don't forget the essentials!
---
Afterpay
Buy Now, Pay Later! Four interest free payments over 8 weeks!
MORE TIME TO PAY
Afterpay allows you to pay for your order fortnightly over 56 days.
NO WAIT
Your order will be shipped instantly, just like a normal order.
SPEND UP TO $1,500
You can use Afterpay for orders between $99 and $1,500.
NO CATCH
No interest and no added fees when you pay on time.
To be eligible to use Afterpay you must:
Be an Australian resident, have a debit or credit card & be 18 years of age or over.
How to use Afterpay:
Add your items to your shopping cart and checkout as normal
Valid for amounts between $99 and $1,500
On the checkout page select Afterpay as your payment method
Enter your details with Afterpay and you're done
Not all customers will be able to spend up to $1,500 - each transaction is assessed individually by Afterpay. New Afterpay customers will have the first payment is deducted at checkout, existing will be in 14 days. Funds for the first payment will need to be available on the card at time of checkout. If you wish to return your goods you can choose to receive an exchange, or the Afterpay payment plan can be cancelled before the first payment at no charge. If you fail to make a payment, Afterpay will charge you an initial $10 late fee and an incremental $7 late fee for each week the order is overdue. Visa and MasterCard only, no Amex.
Parts Finder
Select your bike…
Can't find what you're looking for?
Let us find it for you…
Find it for me!