Team Australia 2019 Motocross of Nations
2019 marked our first year as the naming rights sponsor of Team Australia in the Motocross of Nations, and we wanted to ensure that our interest in the team's prospects went well beyond our investment into the Aussie program. After some hasty planning sessions and the usual last minute runarounds, we were booked on a flight to Amsterdam the week before the event, where we were to meet up with Team Australia's MX2 rider and MXoN rookie Kyle Webster from the Penrite Pirelli CRF Honda Racing team. We wanted to be there for every step of the journey, and thanks to our friends at GoPro we were going to be able to cover most of the action along the way so that all of Australia could follow along with us.
Check out our video recap below to see the journey firsthand, or continue reading through for the full rundown!
Now, before we dive headfirst into the adventures that were to come, we just want to say how extremely proud we are of Team Australia's efforts at the event itself. Kyle Webster was joined on the team by 6-time Aussie MXoN veteran Dean Ferris in the MXGP class and another MXoN rookie in Regan Duffy in MX Open class, making his debut for Australia at the ripe old age of 17.
As always there was plenty of contention around who was chosen and why, with injuries playing a role in this year's team, but these three legends could not have given any more for their country. Spirited performances in the qualifying races were met with harsh reality and pure bad luck come race day, but if there was a single person back home in Australia who felt let down by these guy's efforts, we definitely didn't know about it.
Also a massive shoutout to Motorcycling Australia for helping to co-ordinate the team taking part in this event. It was quite a reality check to see just how much goes on behind the scenes to pull this kind of event off, with everything from logistics to bikes to riding gear, so a big thank you to the people in the background putting in the hours to make it all happen. Australia couldn't be prouder of the whole team's hard work, and we're already counting the days to MXoN 2020 in France.
TOUCHDOWN
We landed in The Netherlands on the Saturday before the event, after having met with Kyle and some of his Penrite Pirelli CRF Honda Racing team crew at our stopover in Dubai. Both Dean and Regan weren't due to arrive until Wednesday, so we all had a couple of days to rest up from the 24 hour journey and help get Kyle and his bike prepped for the weekend. Mark Luksich, Kyle's team manager, had organised a bike with Honda 114 Motorsports while the team was over there, so Tuesday and Wednesday of that week were spent testing the new machine and getting it dialed in for the weekend.
Day 1 of testing we headed out to a track near Arnhem, and the weather was looking pretty decent. The track was fairly gnarly, but compared to some of the sand tracks Kyle had ridden back home in Western Australia it wasn't too crazy. The day went really well for Kyle and the team, as he tested out a few different settings to try and get a feel for the bike. The 114 machine wasn't too dissimilar to Kyle's bike back home in Australia which helped a lot with getting the right setup, and while the extremely grunty bottom end was very noticeable when Kyle was practicing some starts on the metal grids, we headed home feeling extremely confident about the bike.
Day 2 we headed out to a track near Veldhoven, and if the track at Arnhem was gnarly, this thing was a whole different level. The rain came rolling in through the morning which wasn't making things any better, but fortunately didn't stick around for too long and we were able to get a decent testing session in. Kyle was looking more and more at home on the 114 Honda and the team was feeling pretty pumped as we wrapped up the day's testing. Armed with our trusty GoPro, we put together some clips of the day, so check them out below.
YEAH THE BOYS
Wednesday afternoon we were back on the road up to Assen. As well as Dean and Regan, the rest of Team Australia was to be joining us on Wednesday evening as well. This included team manager Michael Byrne, team mechanics Marty and Austin, as well as team co-ordinator Gary, team physio Jon, and the two lucky prize winners from the Motorcycling Australia MXoN raffle! Everyone was arriving fairly late though, so we checked into our new hotel, had an early dinner and called it a night.
Thursday's weather wasn't looking too crash hot, so our plans of hiring push bikes to ride around town didn't get far. Instead, we ended up in the local bowling alley with Dean and Kyle, all the while wondering where Regan was (he and his family ended up staying in Amsterdam the night before after a very late arrival). Bowling had us feeling extremely glad that Kyle was a professional dirt bike racer rather than bowler after his score of 67, while physio Jon had a last lap charge to take the win just ahead of Dean. By mid-afternoon everyone had arrived, and we all headed out for team dinner at a local Italian restaurant.
MEDIA TIME
On Friday morning we all headed out to the Assen TT Circuit for what was going to be an eventful day. First up was checking out the team setup at the truck, where the mechanics had spent the early hours of the morning preparing Dean and Regan's KTM 450 machines for the weekend ahead. Kyle's bike was ready to rip under the Honda 114 Motorsports truck, so with the three machines almost ready to rumble, we were all getting quietly excited as it inched closer to race time.
First on the agenda, however, was press conference time! Whilst Dean and Byrner have no doubt enjoyed their fair share of global press conferences over their years of racing, this was something of a new experience for Kyle and Regan. The boys handled themselves extremely well up there though, and we'd be lying if we said we weren't getting super pumped for tomorrow's racing after seeing them up there in their Aussie colours.
Next on the schedule was TV photographs for the boys, so they all chucked one of their brand new and completely custom Australia Motocross of Nations jerseys on and headed out to the media centre. After getting lost several times, we found the right place, and the boys jumped in to get their photos done. Regan was filthy about the no hat policy, and said to remind him if he's ever on the team again to get his hair cut beforehand. Noted for next year mate!
Next up was track walk. The rain had stayed away and the track was actually looking pretty good. We cruised around with the boys, as well as Byrner and Mark, listening in on some tips, tricks, and advice from guys who had done this before, too many times to count. There were a few sloppy sections around the circuit, but overall it was looking good for a great weekend of racing.
After track walk, we headed back to the team truck and the boys geared up for the rider presentations. The atmosphere was electric as the teams were presented to the already overflowing crowd, and you better believe we screamed ourselves senseless when the Aussie boys came around. The Euro fans didn't seem to care which team was coming past; there were chainsaws, air horns, sirens, flares and a whole lot more. After rider presentations, we all headed back to the hotel for a quiet night in before the big weekend!
PRACTICE & QUALIFYING
Saturday meant the start of the racing, and there was definitely a feeling of excitement in the air. The weather had been fairly solid and the track was looking good, and the boys were all pumped as they headed out for practice in the morning. Deano was first up in the MXGP class, and while he didn't clock any superfast times, he came back feeling very confident heading into the afternoon's MXGP qualifying race.
Kyle and Regan went shortly after in the MX2 and MX Open classes, respectively. Kyle was looking sharp and clocked in the 9th fastest MX2 time, while Regan did the same in the MX Open class, which had both the boys feeling good and ready for the gate drop.
We'd drawn 13th gate pick for the qualifying races, so as you can see above we had a decent starting position for all three races. And boy, didn't the guys make use of them! Dean was up first in MXGP again, and he shot out of the gate and was around 5th position after turn one. Against the most stacked class in the field, he made short work of a few riders in front of him and in the space of a few turns had found his way into third place! It was a hell of a start, and Deano held onto a top 5 spot for the majority of the race. Rain had started to fall, however, and unfortunately for Dean, arm pump began to set in as well. Ditching his goggles with a few laps to go, he held onto a very respectable top 10 finish - great job mate.
Up next was Kyle Webster. If Dean's early moto pace hadn't been enough to put anyone on watch for Australia, then Kyle 100% did. He flew out of the gate for what looked to be a guaranteed holeshot, but was pipped right at the line by a flying Justin Cooper from the outside. With a start like that, and the race that was to follow, there was definitely a common question flying around the event: who on earth is Kyle Webster?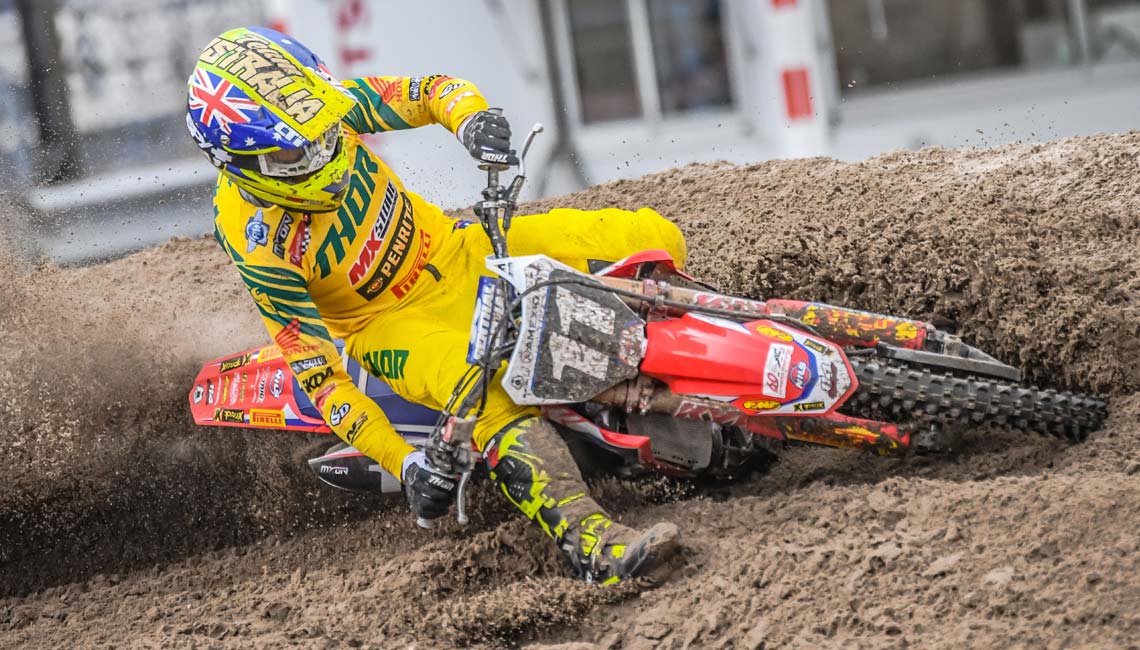 Outside of the Aussie faithful around the track and the 114 Honda team, no one seemed to know who this young Australian flyer was that was blitzing some of the best MX2 riders in the world. Kyle put together an almost flawless race, finishing up 3rd after being passed by HRC rider Calvin Vlaanderen in the latter stages of the race. You can't imagine the size of the smile on his face after that race, and all of a sudden, Team Australia was one of the hottest topics around the track.
What came next, however, was somehow almost even better. 17 year old rookie MXoN rider Regan Duffy, riding a 450 in the MX Open class against some of the top riders in the world, lines up at the starting gate. Check out the image below to see how it looked.
Regan absolutely rocketed off the line on his KTM 450 SXF, and was in third position coming out of the first turn! Suddenly everyone was asking the question, who is this 17 year old kid from Australia?! Regan rode a solid moto, and despite one small tip over and stalling it later in the race, brought it home in sixth place against some of the best 450 racers in the world. Not bad for a 17 year old rookie!
Check out the MXGP TV qualifying highlights in the video below to see the Aussie boys in action.
Team Australia ended up qualifying P4 behind Belgium, The Netherlands, and The USA. Everyone was pumped on an awesome day of racing, and even Deano was cheering that his 10th place finish was discarded thanks to the awesome form of Kyle and Regan. Spirits were definitely high in the team truck that afternoon, and everyone was keen as anything for Sunday's racing to begin.
RACE DAY
Sunday, however, just wasn't to be. Saturday night saw torrential rain falling all over Assen and the surrounding towns, which continued right through to Sunday. The mood was somber as we checked out the conditions Sunday morning, as all of a sudden qualifying times and positions from the previous day had gone out the window; today would be 100% survival mode.
We heard plenty of people saying that if this was a traditional motocross track, it wouldn't actually be rideable and the event would be called off. Given the amount of rain we'd had, the sand had actually done a half decent job of holding up. As we neared gate drop time, however, the rains rolled in once again, and everything from that point on was complete carnage. Check out the highlights below.
As we mentioned earlier, we definitely can't fault the boys' efforts here. Despite the horrendous conditions, they all rode extremely well. Kyle was running top 10 in the first race (and the highest MX2 rider in the race!) before he got stuck in one of the deepest sinkholes you'll ever see, and after a bad start in race two he made his way through the pack all the way up to 14th. Deano was running top 5 in race one before he ran into some problems, finishing up a strong 15th, while Regan was solid in his first race with an 11th place. Heading into the third and final race, Australia was sitting 5th overall and well in the fight for a podium finish!
As expected, the Dutch were simply untouchable on their home soil (sand). But there were still two places on that podium and the boys were determined to be up there heading into the last race. Both Regan and Dean were riding amazing, and with Regan on the charge through the pack late in the moto that podium finish was looking more and more likely! It just wasn't to be though, as smoke began billowing from Regan's machine, and a few laps later that was all she wrote. As Regan's bike expired, so did any chance of Team Australia making the podium. And just to rub salt into the wounds, Dean's bike also gave up with a lap and a half to go, giving the boys 2 DNF's in what was so close to being a huge result for the team.
And just like that, Nations was over. Whilst everyone was bitterly disappointed with the result, and having been so close and fighting for a podium finish, there was definitely a good feeling around the team truck after the races. This team of underdogs had flown halfway around the world, been written off by so many people, and had put on a performance that showed the world that Australia is without a doubt one of the premier motocross countries on the planet. Riding proudly with their hearts on their sleeves, these lads could not have done a better job of representing our country on the biggest stage in this sport. And we could not be prouder to have been a part of the journey.
A massive thank you to everyone who followed along from home, and especially those who made the trip over to cheer on our team in person! Whilst the weather didn't do anyone any favours, it was a great event, and Team Australia was so pumped to be a part of it. We're already counting the days until Motocross of Nations in 2020... France, here we come!
Leave a comment
Can't find what you're looking for?
Let us find it for you…
Find it for me!