Fasthouse Day In The Dirt Down Under 2018
The fastest party of 2018 hit Australian shores on September 7, 8, and 9, and MXstore had front row seats to what turned out to be one of the best events the Australian dirt bike industry has ever seen. Our friends at Fasthouse and Bell Helmets well and truly delivered the goods, working alongside the legends at Lusty Industries, Transmoto, Ellaspede, KTM, and Dunlop to turn Queensland Moto Park into the Superbowl of Speed, Style, and Good Times for the raddest three days we have ever been a part of. Check out our very own MXstore Day In The Dirt Down Under event video below to watch all the action, fun, carnage, and laughs for yourself, then give our event recap a look over for more of a taste of the madness that was the Day In The Dirt Down Under 2018 event.
The Day In The Dirt event is unlike anything that's ever been put on here in Australia, yet it's exactly the kind of event that our industry has been craving for far too long. Despite Mother Nature's best efforts to spoil the party, there was hardly a helmet out there that wasn't hiding a big grin beneath it, as riders from all over the country (and the world) threw their legs over a dirt bike for nothing more than one hell of a good time. Strewn throughout the 700-odd combatants who took part in the incredible racing were some of the best dirt bike riders from all over the globe, including the likes of International and National champions like Darryn Durham, Toby Price, Dan Reardon, Kirk Gibbs, Matty Phillips, Geoff Ballard, Tye Simmonds, Jemma Wilson, Jay Marmont, Jeff Leisk, and more!
MXstore was fortunate enough to take part in the entire Day In The Dirt Down Under event, with a bunch of our crew heading out Thursday evening to get prepped for the weekend's madness ahead, with the rest of the team joining them from Friday onwards. Now, before we dive headfirst into what we got up to out there, we really want to stress the point of what an absolute success this event was. We've been fortunate enough to work alongside Fasthouse, Bell, Lusty, Transmoto, and Ellaspede for a number of years now, and their goals and visions for the event and the sport itself are very much in line with what we believe in here at MXstore. Safety and accessibility to riding dirt bikes sit at the forefront of our core values, and both of these things were on show throughout the entire event, with hardly any incidents (pretty damn good considering the wet conditions!) and very impressive emergency services and medical contingents on hand for the whole three days. More importantly, we saw over 700 riders of all ages getting the opportunity to ride their dirt bikes in an endless variety of events and have an absolute blast with friends, family, and everything in between! In true Fasthouse style, nothing but Good Times.
Thursday 6th September
Given that we were getting involved in the whole event, we were able to head out Thursday afternoon to get our MXstore race setup organised for the upcoming weekend. The boys set up camp next to the Factory KTM legends and the Lusty Demons themselves in prime position, ensuring a weekend of epic times ahead. The layout of QMP looked absolutely insane, with the main loop joining the three main tracks together in one massive circuit across the entire park, as well as the Ellaspede Dust Hustle circuit that would be home to some of the weekend's funniest races!
MXstore HQ was set up and we quickly scoped out the venue and said our hellos to some of the Day In The Dirt crew who had been getting the event ready to roll. Given the early start on Friday morning and a massive three days ahead, the lads tucked into a big dinner, a few cheeky beverages, then hit the hay in preparation of one of the best weekends MXstore has ever been a part of!
Friday 7th September
Friday morning kicked off from 9:00am with 3 hours of Dust If off practice sessions for all riders on the main course, then straight into the State of Origin showdown between QLD and NSW. Despite the dusty conditions, our MXstore crew of Lowey, Grommet, Hilly, Emma McFerran, GB, Sam, Walshy, and Jemma had an absolute blast out on the track, getting a feel for the longer lap times and the all-new course. Before we all knew it, practice was done with for the day, and it was time to race! Flying the MXstore flag in the QLD v NSW shootout was our very own superstar Jake Lowe, and he definitely did not disappoint, coming in a very close second place behind race winner Tye Simmonds! Good hustle J-Lowe - here's a pic of him doing what he does best: looking good for the camera.
Friday afternoon also saw the Ellaspede Dust Hustle track getting put to good use, and our girl Jemma Wilson was showing everyone out there that it's not only the big bikes she can ride! The multi-time Aussie and World Enduro Team Champion took on Day In The Dirt Down Under with her usual 250 four-stroke machine, as well as a brand new YZ65 screamer and a little TT-R 110, which certainly made for some interesting viewing. If watching her shred that Dust Hustle circuit on her little YZ65 wasn't one of the highlights of the weekend then we don't know what was - well done Jemma! Our girl Emma McFerran was also out there putting in some hot laps on her CB250 road bike and having the time of her life, so it was good times all around.
5pm Friday arvo brought one of the most entertaining parts of the whole weekend - the Drag Races! An absolutely endless amount of highlights ensued, with bikes of every make and model on display, as well as some of the wildest costumes you'll ever lay eyes on. Dakar champion Toby Price was on hand to rip some absolute screamers off the start line, while our good friend Johnny of the Lusty Demons almost fell over when Fasthouse legend Darryn Durham looped out his pride and joy and bent the hell out of the rear fender after wheelie-ing up the entire drag strip (good times J-Mac!). Trust us when we say this - you've never seen anything like the Day In The Dirt Down Under Drag Races before here in Australia. Definitely a stand-out from an amazing weekend, and we're already counting the days until the next time we can line up against Toby Price and Darryn Durham (and even Fist Handwear's Sam Moore!) in a one-on-one head to head shootout.
Friday evening following the drags saw plenty of beers, food, and fires being enjoyed by everyone, and with the rowdy bunch of legends that were assembled, the whole Friday night turned out to be nothing more than an awesome time. Special shout-out to our good friend Rhys from Lusty Industries, who along with the man himself Darryn Durham, was definitely putting his hand up for MVP of the night (if you've ever wanted to see someone doing the worm past a fire while Toby Price revs up a chainsaw, he's your guy). The early hours of the morning saw plenty of people still having a blast, but when the skies opened up and the rain rolled in, the few remaining party animals called it quits and headed for some much-needed sleep.
Saturday 8th September
Saturday morning was a wet one. Some absolutely torrential rain in the early hours of the day had turned QMP into a mud pit, and the rain didn't seem too keen on letting up. Weather be damned though, every single person out there was going to make the most of it, MXstore crew included! The Vet Classic race was up first, followed by the Women's GP, and it was epic to see our guy Sam Lyttle coming in a very solid fourth position in the Vets class in some treacherous conditions. The chicks were up next, and while it didn't really shock anyone to see Jemma Wilson absolutely blow everyone away, it was still epic to watch her tearing up one of the wildest motocross tracks we've ever seen. Our social guru (and superstar FMX rider) Em McFerran also had a great ride, taking the third place on the podium after an awesome performance in the wet weather. Good hustle Em! Big shout out to our customer service queen Cara on an epic ride as well, getting around the slush fest in one piece and having an absolute blast while she did so.
The Novice Grand Prix up next saw a stacked lineup of MXstore trophy chasers (they didn't win so it's fine), with the Big Dog, Hilly, Pete, Ben Wilson, Grommet, and Walshy all lining up for a shot at glory. Hilly somehow managed to fall off on the start straight, while Walshy got himself bogged about three metres into the race, but it was the Wilson's out front with Benny taking the holeshot and Grommet not far behind him - good effort by the young lads! Our young gun Grommet finished out the race on the third place on the podium, so a great start to finish effort from the little whippersnapper. There's not a lot of other highlights to mention from the race, so here's some pics of the crew having a blast out there in the mud.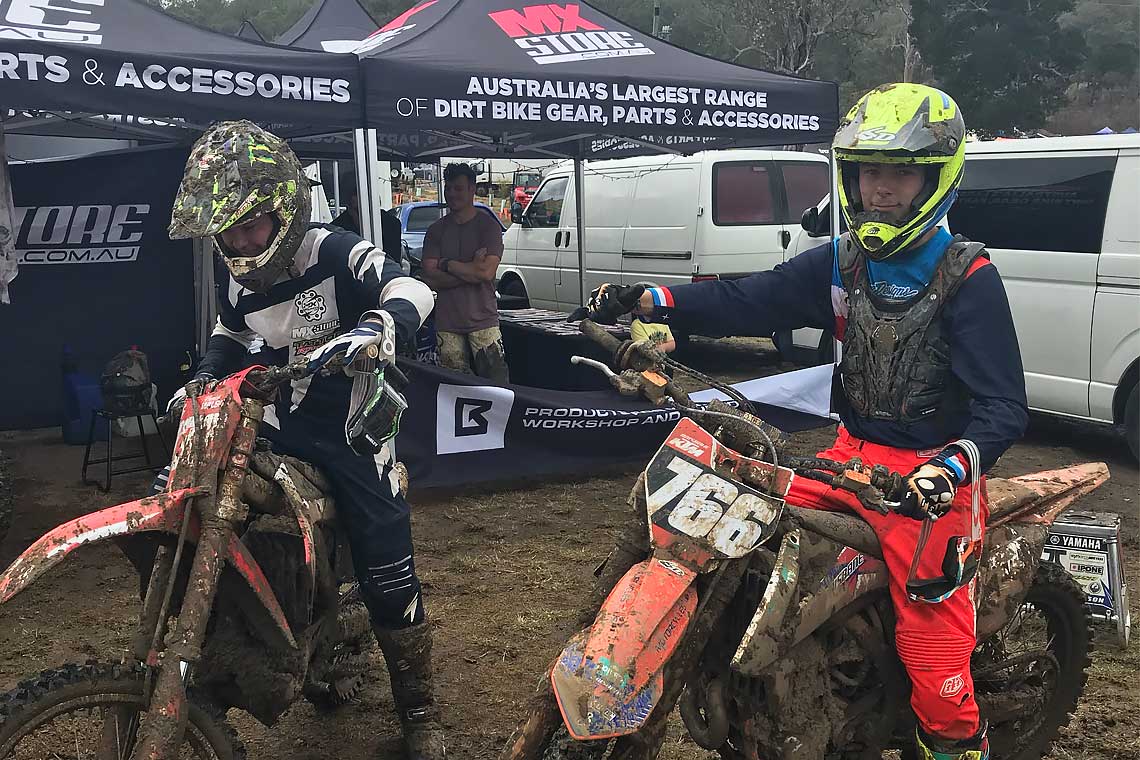 Straight after the novice cup came the 2-Stroke Revival Race, and our boy Jake Lowe was back in action. Although he wasn't overly keen on heading out in the mud, we finally convinced him to suit up about five minutes before the race started, and a mad dash to the start line quickly ensued. And lucky we did convince him, because not only did he rip an absolute screamer of a holeshot from out wide, he also ran away with the race and took home the trophy! Another epic effort from our guy, although after seeing the state of his bike and gear after the race, he wasn't the happiest winner around. Suck it up big fella, you killed it out there!
One of the most anticipated races of the whole event followed shortly after - The Old Switcharoo! A 45-minute moto for two-person teams, each rider would complete one lap before handing their team scrunchie to their teammate for the next lap! Team Curls by MXstore (J-Lowe and Jemma Wilson) were the hot favourites for the mixed teams, while Hilly and Big Dog, GB and Josh Ballard, Pete and Cara, and Grommet and Ben were all on deck to line up alongside the likes of Darryn Durham and Dan Reardon, Toby Price and Matty Phillips, Tye Simmonds and Jeff Leisk, and a whole host of other international superstars. One of the gnarliest races we've ever seen unfolded over the next 45 minutes, with the rain causing absolute mayhem all over the track as riders dropped like flies in the deepening mud. Still, you couldn't wipe the smiles off their faces, and despite the carnage, it was definitely one hell of a good time for everyone involved. The offroad duo of Toby Price and Matty Phillips came out victorious in the overall results, whilst Lowey and Jemma took the win in the Mixed class after a wild race, and GB and Josh Ballard took home the win in the Father and Son class! A great result from the whole MXstore crew, and a bloody good time along the way.
Saturday afternoon saw the rain finally start to clear, and with some awesome live entertainment on show for the Saturday night and a lot more beers and food, the party continued! A lot more good times with great people followed, and before we all knew it, it was time for bed. Special shout out here once again to the legends from Lusty Industries for providing a great atmosphere that everyone could get involved in, and a big shout to everyone who made sure that such a great event didn't come to an unfortunate end. Party hard legends, but party safe!
Sunday 9th September
Sunday morning saw some dusty heads getting around the place (none dustier than Hilly's in that picture above), but everyone was still in high spirits and keen to take on the final day of the event. The clouds had disappeared and it was a perfect sunny day, and it wouldn't take long for the tracks to dry out and be in prime riding condition. Unfortunately for Jemma the Women's GP was up first and it was definitely still a bit muddy out there, but she didn't let that slow her down as she made it the perfect weekend of racing, winning every single event she entered in! The kid's mini races were also going down on the Dust Hustle track and the young kids were having a blast out there, making most of us here at MXstore feel extremely old and exceptionally slow (definitely a lot of truth in that second one). Still, despite the mud in the Women's GP the day was shaping up well, and the MXstore crew were eager to get out on the track (unless your name was Pete, who didn't quite believe us that the track was "crispy" when he saw Jemma come flying past with a 20 foot long roost trail behind her).
Nevertheless, the remaining teams of Hilly and Pete, Lowey and Grommet, and even the infamous James Wren took to the start line for another crack at glory. Glory definitely got away from them though, as Durham and Reardon obliterated the competition in what were improving conditions, showing their class and why they've competed on the biggest stages around the world. The boys had a blast though and it was great to get out on the track and see them in action. J-Lowe's YZ250 suffered a slight mechanical, with his pipe and rear fender completely falling off his bike after hitting the downhill double, and there was controversy afoot with Lowey blaming his teammate Grommet for not doing up his bolts correctly (love the banter boys). All in all, it was an impressive ride from everyone involved, with the 75-minute moto lasting seemingly forever as teammates took it one lap each at a time. Lowey definitely took out the Lit-Kit Award for this one, debuting his fresh AF Fasthouse combo alongside his brand new Alpinestars helmet.
Our boys were involved in one more Novice GP for the weekend, and you better believe that the trophy hunter himself Pete Anderson took the holeshot from the outside line and had a brilliant moto to end up fifth overall (no trophies for fifth though, sorry mate!). Was good to see our mates Elmsly and Joel out on the track again, although how Sam Moore would ever trust Joel to ride his bike I will never know - killed it though legends! Another great effort from all the riders to hit the track again after what had been a brutal weekend of riding and partying in some wild conditions, so we won't judge too harshly on Grommet's poor last moto performance. The kid looked good at least! One of MXstore's good mates Sam Larsen took out the win with a convincing ride, so it was good to see a familiar face up on the top of the podium at the end of it all. We're not 100% certain, but we're pretty sure this is a picture of Sam out front absolutely flying #sendit
Sunday afternoon saw one of our most enjoyable races of the weekend, with Jemma taking on the Ellaspede Roll-Up Races on the Dust Hustle track on her 65cc machine. In front of an ever-growing crowd, she proved too fast for all the 450 machines out there trying to keep up with her, and providing some of the best racing and passing we'd seen all weekend. An absolute masterclass from the 5-time world champion, and some super entertaining racing for everyone. A few of the kids also showed their potential for the future once again, laying down some super clean laps and doing it all with a big smile beneath their helmets - what's not to love?
The final race of the weekend was the Coup De Grace - a 75-minute slog for those left standing after a massive weekend, to decide who would take home the Day In The Dirt Down Under Crown. No surprises that Toby Price was the man to step up to the plate and run away with a convincing win, showing everyone the speed and endurance that has made him one of fastest offroad dudes on the planet. A massive effort from everyone lined up on the gate for the last race of the weekend and a brilliant way to finish off what had been a much-needed breath of life into the Australian dirt bike industry.
Home Time
Sunday afternoon had arrived and it was time for the remaining crew to pack up and begin the journey home. We quickly stopped off at the Lusty and Fasthouse setups to say our goodbyes and thanks, and were fortunate enough to run into Durham and the crew and get our hands on a signed jersey from the man himself! He even asked Jake Lowe for a photo, and the boys couldn't let him down on that one (that's a lie, we most definitely asked him for a pic). Anyway, a massive thanks to the Lusty crew and Fasthouse for putting the entire event together and making sure the MXstore team had a weekend to remember. Without a doubt one of the best weekends and events we've ever been involved in, there are too many people to thank that made it all happen, but know that us here at MXstore and the moto community as a whole are beyond grateful for what you guys achieved. Cannot wait for the next one, and we hope to see all you guys out there as well. Fasthouse - the purveyor of good times!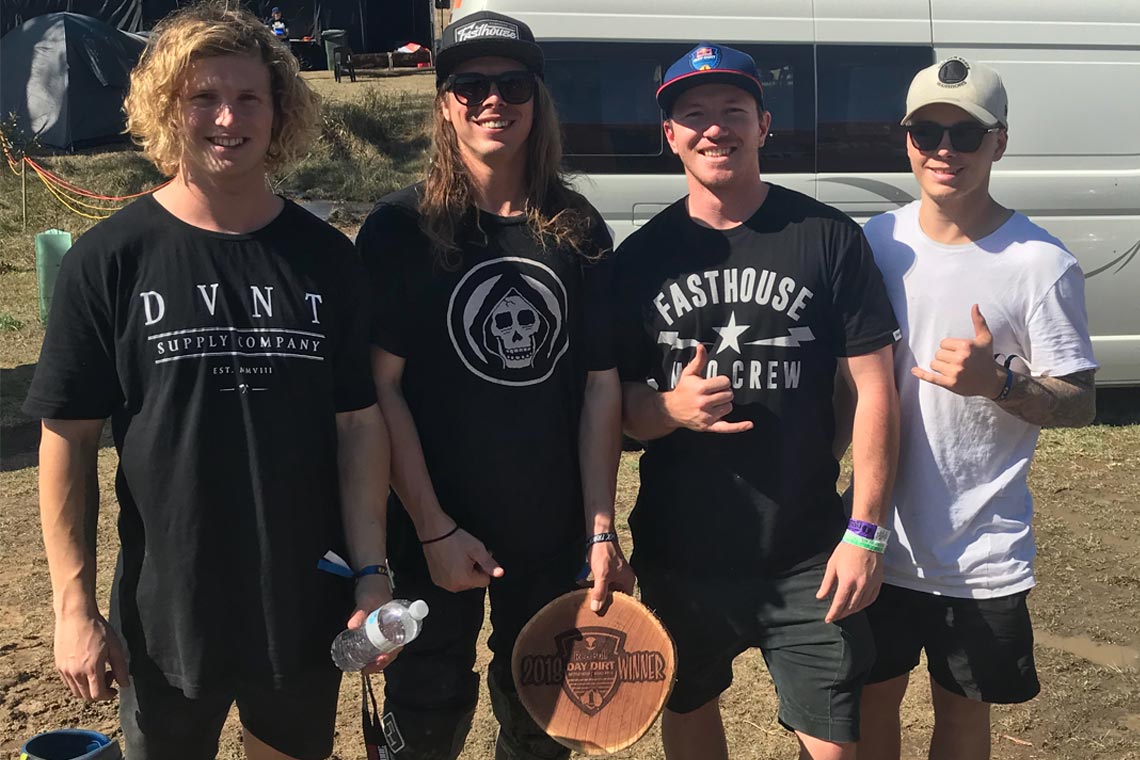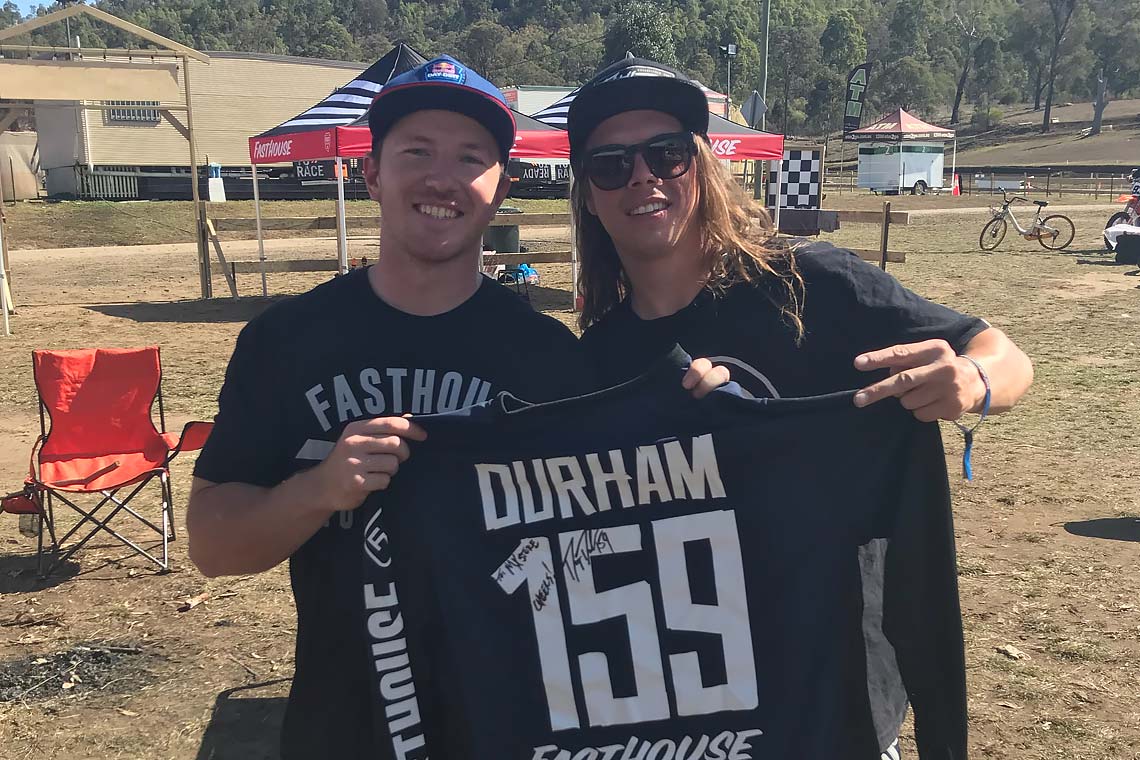 Leave a comment
Parts Finder
Select your bike…
Can't find what you're looking for?
Let us find it for you…
Find it for me!