Understanding How VForce Reeds Work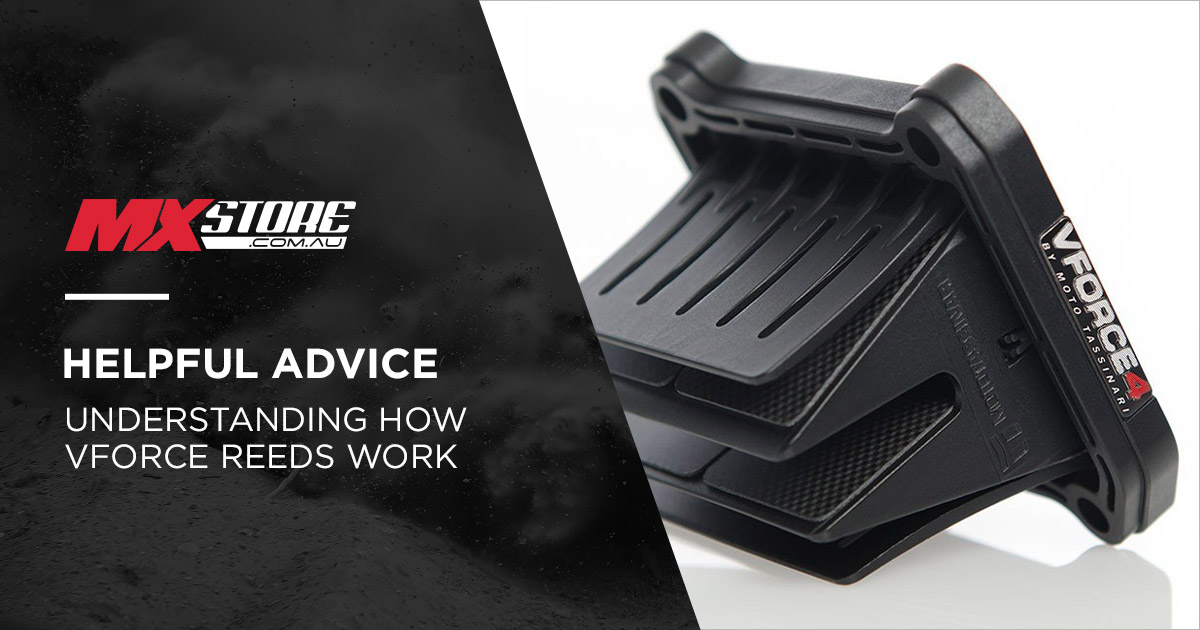 If you've ever looked closely at a race-spec two-stroke motocross bike, then you may have noticed a little part with the recognisable VForce logo - this is a reed valve system designed by the smart minds at Moto Tassinari.
What are VForce reeds?
VForce reed valve systems are the benchmark for aftermarket reed blocks on two-stroke dirt bikes that are designed to enhance engine performance and increase throttle response, which is why they've become a staple amongst every serious two-stroke racer.
How do VForce reeds work?
VForce reeds work in two key ways.
The first is that the reed petals achieve the same airflow as standard, despite only moving half the distance. The second aspect is that because the reed petals only move half the distance compared a traditional reed valve system, there's a stronger chance of them being fully opened as well as a better chance of sealing when they're 'closed'.
A reed petal never really closes as it's always in movement - if an engine is operating at 8000rpm, a reed petal will open and close 133 times in one second. This is where another VForce advantage comes into play - since the petals are only travelling half the distance, they generally last longer as they receive less wear than the reed petals on a conventional reed valve design.
What are the benefits of VForce reeds?
A VForce reed valve system provides a boost in bottom end power, along with stronger mid-range and longer top-end power, while it also allows more airflow which ultimately means more horsepower. The VForce system also uses a completely screw-free design, which prevents a worst-case scenario of one loosening and causing catastrophic engine damage.
What's the difference between VForce3 and VForce4?
The VForce3 is the original reed valve system that soared to popularity amongst mini riders and two-stroke enthusiasts, and the VForce4 is built on the foundation and success of its predecessor.
The VForce4 is this is a complete redesign of the entire system - in fact, the only thing that isn't different between the two models is the bolt pattern. All of the components that went into the VForce3 model have been drastically changed for the latest VForce4.
The VForce4 reed cage design boasts an airfoil shape at the reed tip area to boost air velocity from the outer ports - it uses a reed petal resin system, carbon fibre and lay-up on updated pre-curved reed petals. The benefit of the pre-curved reed petal is better sealing at the tip area.
The VForce4 boasts longer reed stops to progressively slow petal tip velocity for increased durability, while the combined reed tip area has been increased by over 10 percent for an increase in total airflow.
The all-new VForce4R models incorporate a rubber over molding on the reed surface to improve reed petal life while also creating a superior sealing surface, as the all-new VForce4Ri models include a custom intake manifold boot that offers a straighter shot to the intake that greatly enhances both airflow and performance.
Leave a comment
Can't find what you're looking for?
Let us find it for you…
Find it for me!